Changing Bluetooth Power Management Settings
If your mouse is disconnecting unexpectedly, failing to reconnect over Bluetooth, or a firmware update is stalling half-way. Your Computers Bluetooth Adapter may not be correctly waking from sleep. To resolve this you can adjust your Bluetooth power saving settings as described below.

Step 1 - Open Bluetooth Options
Open the Windows Bluetooth settings menu where you normally pair with your mouse. Under the related settings select select 'More Bluetooth options'

Step 2 - Select your Bluetooth Adapter

Select the 'Hardware' tab. This will display all of your connected Bluetooth devices, along with your Bluetooth Adapter and some other system services.

We need to find your Bluetooth adapter in the list. Depending on your device this can have a variety of different names. But in most cases it will include the words Adapter, Radio, or Wireless.

For example:

Generic Bluetooth Radio
Intel wireless Bluetooth

Realtek Bluetooth Adapter

Marvell AVASTAR Bluetooth Radio Adapter
Bluetooth USB module
Once you have found your adapter in the list, select it then click the Properties button.
Step 3 - Open its settings

In the Properties window which just opens click the 'Change settings' button in its bottom left corner.
Step 4 - Disable Power Management
Select the 'Power Management' tab, then un-check the box beside 'Allow the computer to turn off this device to save power', and press 'OK'.


In some versions of Windows 10 the Power Management tab may not be available on your Bluetooth adapter from the location. So if you don't find it there instead check under the Human Interface Devices category of Device Manager for a Bluetooth Low Energy GATT compliant HID device, or something similar. This should have the power management tab that was missing from the other location.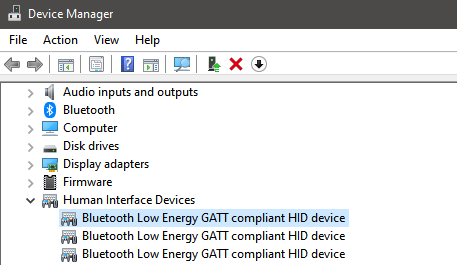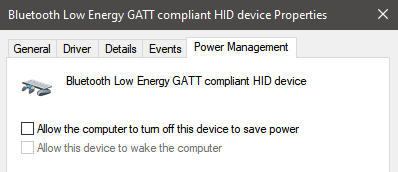 Related Articles

My mouse is paired over Bluetooth but is not reconnecting.

If your mouse is showing in your Bluetooth device list as paired, but is not connecting when you switch it on; one of problems described below could be happening. You should be able to tell which, based on how the light on your mouse responds when ...

Swiftpoint GT - In depth Bluetooth Troubleshooting

If your GT will connect to its USB receiver but you are unable to pair over Bluetooth, please try the following troubleshooting steps: 1. Confirm that your GT is correctly entering Bluetooth pairing mode When you switch your GT on with one of its ...

My Swiftpoint GT is not automatically reconnecting over Bluetooth

If you are having trouble with your GT's Bluetooth connection not automatically reconnecting, we recommend performing the steps below when creating a new Bluetooth pairing to ensure a stable connection is established. Ensure your GT is well charged ...

How do I pair the Swiftpoint GT over Bluetooth?

To pair your GT to a device over Bluetooth just follow the steps below. Go to the Bluetooth device menu in your system settings. Windows: Settings > Devices > Add Bluetooth device or other device > Bluetooth. MacOS: System Preferences > Bluetooth. ...

I am unable to pair with MacOS over Bluetooth.

If your mouse is not appearing in your Macs Bluetooth device list when put into pairing mode, or not connecting when it does. Please try the Bluetooth troubleshooting steps below. If the LED on your mouse is a constant RED when you switch it on it ...