Linking your new profile to the app/game it will be used with allows it to work with the
Auto Profile Switching
system. So that whenever you are using that app your mouse is put into the correct profile automatically. If you don't do this you will need to select the profile manually using the Control Panel each time you go to use that app.
In order to link an app to a profile you will need open the profiles properties by right clicking in and selecting Modify. Then click the Browse button and find the exe/app file for the app/game you want to link to.

In most cases these are relatively easy to find. But if you get stuck check below for some tips for finding the correct file to link.

Tips for locating exes to link

Normal shortcuts that you might have on your desktop can be used to link an app. But not if they were created by a game distribution platform (e.g. Steam, Uplay), as these shortcuts will point to the platform not the games directly.

Most game distribution platforms will be able to show you the games installation directory if you check their properties in the launcher. For example in Steam right click a game then select "Manage > Browse Local Files". The exe will normally be somewhere in the folder this takes you to, but you may need to open some additional folders first.

Folders inside game directories named binaries, bin, win32 or win64 are common locations for the exe.

Some games will have multiple exe, in these cases you normally only need to link one. But if you're not sure which one it is there's generally no harm in linking multiple exes.

If you're having serious problems locating an exe, someone has probably had this problem before. So a quick search online (e.g. "the outer worlds exe location") will likely point you in the right direction.

Using Task Manager to locate an exe

Task manager can take you straight to the directory of almost any currently running application. So launch the app/game you want to link then open then open task manager (Ctrl + Shift + Esc).

The app you want to link should be displayed near the top of the list on the Processes tab, simply right click it and select "Open file location". If the option is greyed out double click the process to expand it, and try the same thing on entries which appear.


If you get this permissions error, select 'Go to details' instead of 'Open file location' from the process context menu. Then right click the entry it takes you to, and select 'Open file location' again.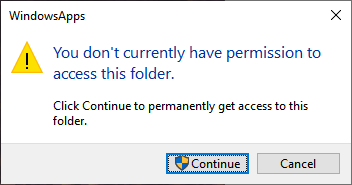 If that results in another error, you can also display the exe location of all processes directly from this details tab. If they're not visible already right click the column headings and click 'Select columns' then enable the 'Image path name' column.


In the explorer window that opens click on the address bar and copy the path. You can then paste this directly into the address bar on the "Select app" dialog.