Summary

The Pen-grip range are our series of ultra-light and portable pen-grip mice. First introduced with the 300 series in 2011, they have since been refined over two generations to the current ProPoint and its siblings TRACPOINT, PadPoint, PenPoint, and GoPoint.


All mice in the Pen-grip range are easily the best travel mice ever, but they are also fully featured and genuinely ergonomic. So are more than viable as a complete replacement for your standard mouse as well.

Features

The features that come with all pen-grip mice include:

Ultra portable ergonomic pen-grip design.

Wireless pairing over Bluetooth with up to three devices.
Up to two weeks battery life off a full charge.

Rapid charge for over an hour of use from a 60 second charge.

Bundled USB Charger.

Features available to all models except GoPoint

Customizable gesture functions with the "Swiftpoint Control Panel" for Mac and Windows.*

Support for the Parking Spot accessory.

Models

Each model also has a different set of features which make it ideal for specific users. Check below for a brief summary of what each mouse brings to the table.

ProPoint



At the top of the Pen-Grip range is ProPoint, which includes all of the features from the other mice in the range, along with a third mouse button which only shared with SurfacePoint (all other models only have two buttons). Its included USB charger also doubles as a wireless receiver which can be used when Bluetooth is not available.

TRACPOINT

TRACPOINT is for any frequent traveler who needs a portable mouse to get real work done on the go. It replaces the frustrating trackpad and also doubles as a presenter device for PowerPoint, or other presentation software.

PadPoint

PadPoint is for iPad users who feel limited by the touch-screen. With iOS 13 it can be used across all iOS apps, but it also features bespoke support in our partnered remote desktop apps. Which enables the full mouse support which is required to efficiently work in desktop applications on iPad.

We also have our own
iPad app
, which allows you to adjust key settings on PadPoint and ProPoint while they are used on iPad.
PenPoint

PenPoint is focused on the ergonomic and health aspects of the Pen-grip design. It expands upon these by including health software to help users avoid pain or discomfort while using their mouse.

SurfacePoint

SurfacePoint includes the Surface Wheel Productivity Assistant, a swift-access menu full of useful and easy-to-use tools.

GoPoint

GoPoint provides the basic pen-grip features without tilt gestures, or support for the parking spot accessory, but at a lower cost.

Feature Summary Table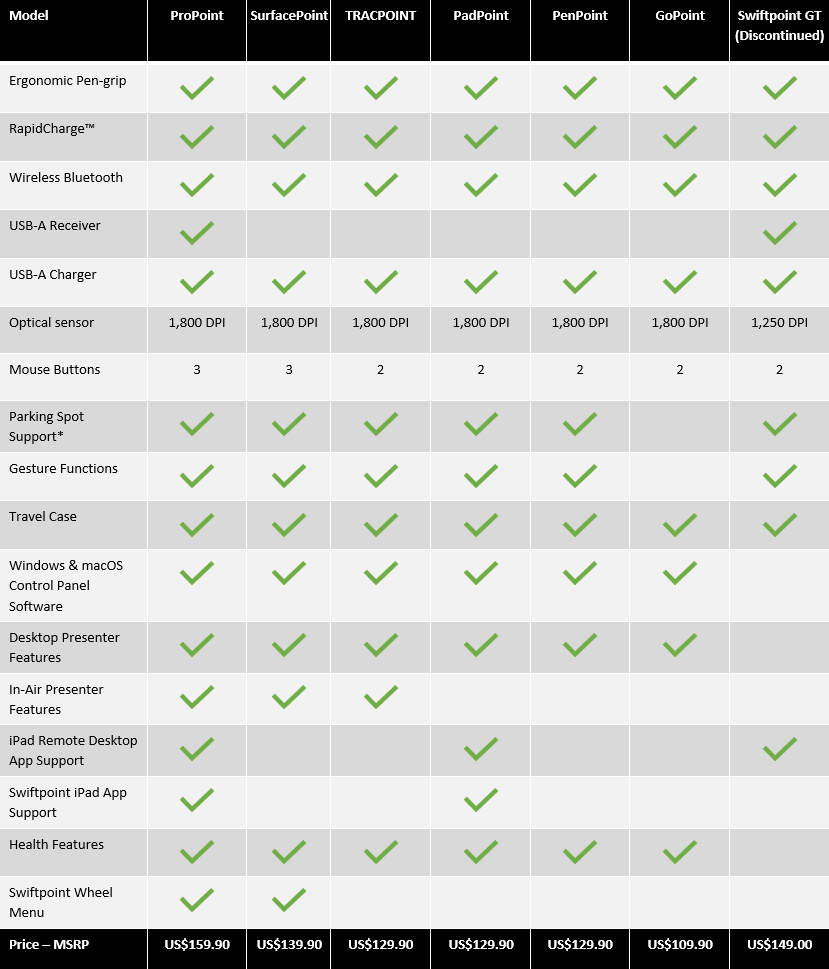 * The Parking Spot accessory (available separately) requires a magnet in the base of the mouse to hold it in place. GoPoint does not include this magnet so cannot be docked on a Parking Spot; though it can still be docked on the USB charger.