Swiftpoint X1 Control Panel - Changelog
Latest Version

2.0.11.0 - November 2022

New pre-made Profiles and Action Libraries for:
Hell Let Loose

Path of Exile

Resolved issue where "Global Settings" (e.g. DPI, Polling Rate) were not loaded when manually importing a Global Profile.

Resolved issue where incorrect profiles could be loaded during a manual profile import.

Current active profile will now be maintained after importing profiles (if it is not removed).

Stopped Control Panel from automatically overwriting profiles saved to mouse flash memory when it connects.
Expanded Traditional Chinese translation to include everything except pre-made profiles and action libraries.

Corrected an issue where available translations were not being applied on macOS.
Previous Releases

2.0.10.0 - September 2022

On Windows a list of currently open apps is now displayed when you are linking a Profile to an app. This saves you from having to locate the .exe file, and avoids difficulties with linking Windows store/Game Pass apps.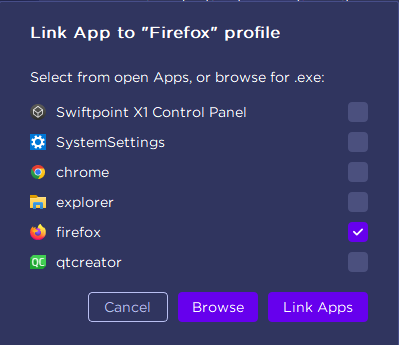 Added a link to our user survey in the intro prompt.
2.0.9.0 - August 2022

New pre-made Profiles and Action Libraries for:
Adobe Premiere Pro
Blender

Creo Parametric

DaVinci Resolve

Logic Pro
SolidWorks

Creator now supports Expert Mode:

Use the button at the bottom left corner of the Control Panel to access "Expert Mode" where you can tweak the finer details of your profiles.

Minor corrections to Canva Profile, and Photoshop action libraries.

Resolved issue with "Next/Previous Profile" actions not working correctly when selected from action library.

Improvements to app install detection.

2.0.8.0 - June 2022
New pre-made Profiles and Action Libraries for:
Adobe Illustrator

Adobe InDesign

Adobe PhotoShop

Adobe XD

Affinity Designer

Affinity Photo

Affinity Publisher

Canva

CorelDraw

GIMP

Inkscape

Mouse movement inputs settings can now be edited in simple mode.

Added option to record wait time between key presses when using the keyboard recorder to create macros in expert mode.

Added "Duplicate" button to output list in Expert mode. This will create a copy of the output immediately below the original.




OS shortcuts that were previously only in the Desktop Profile's action library are now available to all profiles.

Added a Mouse Movement gesture template action, so gestures can now be created and edited in Simple Mode.

Resolved issue where profiles duplicated in Expert mode would remain partially linked. Causing some changes in either profile to effect the other.

Resolved issue where "Repeat From" outputs "Times" value would reset to zero whenever the output list containing it was viewed.

Resolved issue where mappings pasted in expert mode wouldn't be saved, or would cut child mappings from source when "Merge" option was selected.

Resolved issue where admin level applications with long names were not correctly identified.

Resolved issue where changes to Default Profile, Auto Switching and Linked Applications in simple mode were not permanently saved unless other changes were also made.

Added scroll-bar to action library list when filter is applied, so all results can be viewed.

Resolved issue where action library search filter did not reach double nested actions.

Resolved issue where Function key outputs were not created correctly when selected from action libraries.

2.0.7.0 - Sept 2021

UI Improvements & Fixes:
Vibration feedback can now be added to deep click, mouse movement and tilt/pivot inputs in Simple Mode (Z Only).

Add labels for all nested inputs types in Simple Mode, and icons for mouse movement inputs.

The Control Panel can now launch directly into Expert Mode if it was in use when the app was last running.

Enabled UI scaling based on Windows display settings. So the UI will now be legible even on small high-res displays when Windows scaling is used.

Initial support for UI themes based on connected mouse.

Active profile displayed in UI now updates when profile is switched manually via mouse mapping.

Resolved issue where RGB drop-down in Simple Mode could appear in an incorrect location or not at all.

Prevent Control Panel from losing focus after manual check for updates.

Save option is now enabled when changing a block further outputs flag.
Auto Profile Switching Improvements & Fixes:
App detection system can now detect UWP apps (e.g. Windows Store apps).

App detection system can now identify apps that run as Admin, without running the Control Panel itself as Admin.

Added check for invalid app links created by selecting shortcuts generated by Steam.

Prevent false positive app switches due to detected exe being sub-string of linked exe.

e.g. "

steam.exe

" was switching to profile linked to "pathofexile_64

steam.exe

".

Prevent active profile from switching back to default when linked app with focus temporarily stops responding (e.g. while some games are loading).

When multiple profiles are linked to one application, the most recently used of those linked profiles is once again correctly saved and restored when switching between apps.

This is useful if for example you have separate class profiles for a single game which you switch between manually. As it means if you alt-tab out of the game the correct class profile will be loaded when you come back.
General Improvements & Fixes:
Added an auto backup system for profiles.


Backup of last profiles successfully loaded will be saved to 'Documents/Swiftpoint X1 Settings'

If your profiles are corrupted and the load fails, the backup will automatically be loaded instead.

A copy of the corrupted profiles will also be saved to 'Documents/Swiftpoint X1 Settings' in case any profiles can be recovered manually.


Allow "Set Profile" and "Reset Angles" outputs on profile switch in Expert Mode.

Added support for some previous firmware versions on Swiftpoint Z's.

Firmware update stability improvements.

Improvements to the Control Panels logging system.

Resolved issue where overriding a mapping could sometimes clear other mappings on profile.

Resolved issue where new mappings added in simple mode could seem to disappear.

Resolved issue where a profiles mappings could appear to be duplicated after importing profiles.


Resolved issue where outputs added to inputs which do not have a release (e.g. scroll/mouse movement) could get stuck down.
2.0.6.0 - Feb 2021

Enabled unlimited nesting of Deep Clicks in Expert Mode.

Improved system for resuming firmware updates if a problem occurs during an update.
Disabled firmware update option after firmware update completes to prevent unnecessary re-flashes of firmware.

Corrected UI issue which prevented nesting of Pivot inputs.
Corrected issue with app signature which caused previous version to sometimes be identified as malicious.
Resolved issue with "Scroll Down" and some other outputs not initializing correctly and causing crashes.

Resolved issue where apps with admin privileges could cause active profile to switch unnecessarily. (Apps run as admin can still only be fully detected if Control Panel is also run as admin).

Enabled partial translations of Expert Mode inherited from Swiftpoint Driver (Simplified Chinese, Japanese, and Spanish).

Disabled auto-save on app exit which was occasionally causing config corruption.

Removed prompt to close Swiftpoint Driver on Software update (It is only necessary for firmware updates).

Hide various unusable output actions in Expert Mode when Tracer connected.

2.0.5.0 - Jan 2021

Tracer can now access Expert Mode.

Added Profiles and Action Libraries for:

Cyberpunk 2077

Destiny 2

Team Fortress 2

Valorant

Added confirmation dialogue when profiles are removed via "Manage Profiles".

Added Control Panel version details to "Info" button on sidebar.

Blocked scroll-wheel on expert mode dpi sliders, combo boxes, and vibration outputs.

[MacOS] Removed black fill in menu bar icon to match macOS style.

Revised firmware update dialogues to address old 'Swiftpoint Driver' app only if it is running.

Fixed bug which prevented changing of default profile in Expert Mode.

Fixed issue where Z wasn't immediately detected if swapping from Tracer to Z.

Fixed issue where Global profile can be wiped when importing profiles.

Fix for mouse sometimes being temporarily disabled when X1 Control Panel is closed, or mouse is disconnected via expert mode.

Fixed crash that could occur when Tracer disconnected in Expert Mode.

Other minor UI tweaks and fixes.

2.0.4.0 - Oct 2020

Added support for TRACER (Z still supported).

New UI which provides a clear overview of your profiles mappings, and simplifies the creation of new profiles/mappings.

Pre-configured profiles added automatically for supported games.

Supported games also include action libraries containing all default keybinds for easy customization.

All advanced functionality from the Zs old software is still available to Z users via Expert Mode.

Custom mappings can be assigned names which they will be displayed as in the new UI.

Mappings can now be copied and pasted between inputs in Expert Mode.

Related Articles

Introduction to the Swiftpoint X1 Control Panel

Intro The X1 Control Panel provides and easy to use interface for configuring mice in our Classic-grip Range. Including the Swiftpoint Z, TRACER and Creator. If you do not already have it installed, it is available for macOS 10.12+ and Windows 7+ ...

My mouse stops working after launching the X1 Control Panel

If your mouse stops responding to mouse movement and button presses when it connects to the X1 Control Panel there may be a problem with the config file that the Control Panel is uploading to your mouse. To check if this could be the case first fully ...

Swiftpoint X1 Control Panel UI - Side Panel

In the side panel you can access the main menu via the cog icon. Links to helpful information like this page via the info icon. And mouse memory usage via the mouse icon. Main Menu Save Mappings to Permanent Flash Memory in Mouse By default the ...

Swiftpoint X1 Control Panel Download (for Z, Tracer and Creator)

The Swiftpoint X1 Control Panel is available for Windows and macOS, and supports the Swiftpoint Z, Tracer and Creator. You can find details on what's new in the latest versions here. X1 Control Panel Downloads Windows: X1 Control Panel V2.0.11.0 ...

Swiftpoint X1 Control Panel UI - Profile Panel

The profiles panel is where you can select which profile you want to view/edit, check or set which profile is active, enable or disable auto profile switching, and create or delete profiles. Selecting a profile to view/edit To view or edit a profiles ...