Latest Version

Control Panel V3.6.3.0 - July 2023

Heath module is now available to all pen-grip mice.

Re-named and re-arranged items in main navigation menu.


Split "Tilt Gestures" into its own section.

"Wheel" section is now "Productivity Wheel"

"Desktop Presenter" section has been separated from "Presenter", and renamed to "Virtual Meeting".


General Bug Fixes


Ensure Productivity Wheel maintains the order of custom function between app launches.

Prevent new custom Productivity Wheel functions from using the name of an existing function.

Improved scaling on previously poorly scaled images.

Current Control Panel and firmware version are now displayed even when an update is available.


Localization


Added Czech translation

Added Hungarian translation
Added Polish translation

Added Slovak translation

Updates to all existing translations.

Previous Versions

Control Panel V3.6.2.0 - September 2022

Desktop Presenter


Added Mirror Mode for PowerPoint Presenter View (more details here)

Focus is passed back to foreground application when changing presenter tool


General Bug Fixes


Fix for Health module not working due to local time formats

Address issue where mouse would not reconnect after Hibernate / Sleep

Fixes to Japanese and German translations

Update to icon set
Control Panel V3.6.0.9 - April 2022

Added support for ErgoPoint

Added Taiwanese translations

Minor bug fixes including:


Scroll acceleration - Fix so only one scroll event is sent per Desktop mouse scroll

Fixing logic where persistent (text / pen) Tools are still active after disabling them.
Control Panel V3.6.0.5 - October 2021

Rear button on SurfacePoint and ProPoint now activates the Wheel Menu by default.


This change does not effect existing configurations. The wheel can be assigned to the center or rear button manually under "Mouse Settings > Mouse Functions".


Added Google Meet to Desktop Presenters Auto Detect.

Resolved issue where the Control Panel could prevent some computers from going to sleep.

Resolved issue in Desktop presenter where pen tool could stay latched on.
Control Panel V3.6.0.0 - August 2021

Added "Custom Functions" to the Wheel tool which can be used to:


Activate custom keyboard shortcuts/macros.

Launch any application on your system.


Updated icons for wheel functions.

Desktop Presenter no longer auto starts on application detection if mouse is not connected.

Control Panel V3.5.1.72 - June 2021

Desktop Presenter will automatically launch with select applications (Zoom, Microsoft Teams, PowerPoint, Skype).


Settings can be adjusted under "Presenter > Desktop Presenter" settings




Resolved issue with Magnifier not following cursor in some instances.

New main page layout.




Control Panel V3.5.1.0 - June 2021

Added Swiftpoint Wheel tool to ProPoint.


The Wheel tool gives you quick and convenient access to commonly used functions.

It can be assigned to ProPoints Center or Rear button under "Mouse Settings > Mouse Functions".

Actions can be added or removed in the new "Wheel" section, by right clicking any section of the wheel.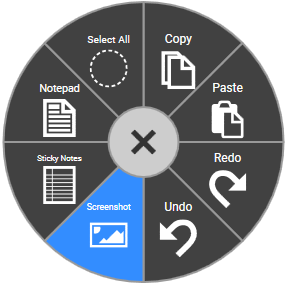 Added Magnifier tool to Desktop Presenter, and "in-air" Presenter Mode.




Magnifiers size and magnification level can be configured under "Presenter > Magnifier".




For use in Presenter Mode, the magnifier tool must be assigned under "Presenter > Button Functions".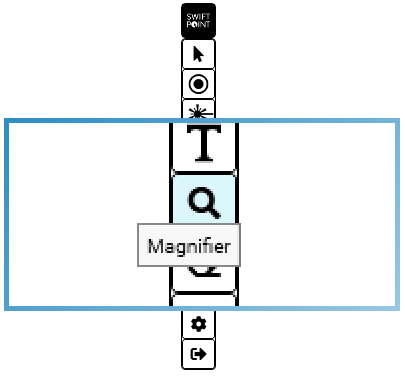 Fixed issue with Presenter tools not working after changing resolution or adding a secondary monitor.

Made it easier to change and select tools on the Desktop Presenter toolbar.

Application

updated from 32bit to

64 bit, .

Minor updates to Dutch translations.


Fixing issue where mouse could slow down after exiting Presenter tool in Presenter Mode.



Added a 'Restore Defaults' for Presenter Settings


Updated default Presenter Mode settings:




Laser Pointer is assigned to the front button




Spotlight is assigned to the 2nd and 3rd buttons.






Control Panel V3.4.1.0 - March 2021

Updated the Health Section UI for consistency with macOS version.



Control Panel V3.4.0.3 - Feb 2021

Added a 'Clear All' function for the Desktop Presenter to erase all annotations and text.



Improvements to Taiwanese & Chinese Translations.

Increased daily limit maximum to 12 hours.

Software and firmware version is now displayed in the bottom right corner of the Control Panel on all screens.





When an update is available for either firmware or software a button will appear in this location.





Various UI refinements.

Various bug fixes.

Control Panel V3.3.18.1 - Oct 2020

Added Japanese translation.

Added Traditional Chinese translation.

Fixed issue with Presenter functions on Windows 10 build 2004.

Control Panel V3.3.17.2 - June 2020

Added Text function to desktop presenter.

Added Screenshot function to desktop presenter.

Control Panel V3.3.16.0 - May 2020

We're pleased to announce that we have added a highlighter tool the Desktop Presenter tool we released earlier this month.

You can now annotate on your screen during presentations, whether they are virtual or on a projector. You can adjust the highlighter size, transparency and color.

The Highlighter tool is currently only accessible via the Desktop Presenter toolbar.

When the Highlighter tool is activated:

Press and hold the 'Front Button' to draw.

Press and hold 'Right Mouse Button' over previously drawn lines to erase.

Press 'Esc' on keyboard to exit highlighter mode. This will erase drawn lines.

Control Panel V3.3.15.0 - May 2020

Added Desktop Presenter; which allows you to use the SpotPoint and Laser Pointer functions outside of presentation mode. For when you are sharing your screen during video conferences.

Desktop Presenter can be enabled and disabled via the new menu at the bottom of the Control Panel window; or from the system tray.

When enabled a small toolbar will appear on the side of your screen with buttons to activate your presenter functions.





Control Panel V3.3.14.0 - Mar 2020

Includes Firmware Version 1.35

Added support for new iPadOS app .

Control Panel V3.3.13.0 - Feb 2020

Added 'Touch Input' option to 'Tilt + Move' gestures.

When Enabled scroll gestures will use the touch capabilities of Windows 10 instead of conventional scrolling. This results in smoother scrolling in all directions, while also enabling horizontal scrolling in some apps (like Excel) which do not support the conventional horizontal scrolling used previously.

If Disabled gesture scrolling will return to its original behavior.



Added Korean Translation.

USB Fix and update Kernel Driver to 1.0.1.14 - addresses issues for USB not applying P3 control panel changes after a reconnect.

Fix for Health Database localization.

Fix for cursor jitter on some systems.

Includes Firmware Version 1.33

Improved tilt gesture detection.

Improved battery level gauge.

Control Panel V3.3.5.0 - Dec 2019

Resolved issue with Firmware Updater which could prevent update from starting or cause it to stall.

Control Panel V3.3.4.0 - Nov 2019

Added iPad Remote Access and Health tabs.

Health tabs can be configured to remind you when to take a break. Up to 3 different timers can be setup for this task.

Added USB support (requires Firmware > 1.20)

Fixing issue where upgrades can be stuck at 90%.

Includes Firmware Version 1.30

Fix for wake-up bug.

Fix for standalone Presenter mode issue.

Control Panel V3.2.5.0 - Oct 2019

Adds ability to change color of laser pointer.

Updates to the Presenter - tap action is suppressed if Spotlight/Laser is engaged

Added Japanese translations

Fixed issue with SnagIt full screen interaction

Includes firmware v.129

Fix for wake up issue.

Adding version and product ID fields to allow unit identification.

Control Panel V3.2.3.0 - Sep 2019

Fix where Control Panel would not start minimized on start up.

Control Panel V3.2.1.20 - Sep
2019

Added Presenter controls.

Added SpotPoint which is an assignable Presenter Control to highlight areas of the screen.

Added Virtual Laser Pointer which is an assignable Presenter Control.

Click any button or press Esc to disengage the SpotPoint / Virtual Laser Pointer when engaged.

Help desk options added.

Removed Wellnomics as 1 year promotion has now lapsed.

Includes firmware v.126

Improvements to Gyro Sensitivity

Changes to sleep mode so mouse is more responsive coming out of sleep and microsleep.

Bluetooth timeout set to 12 minutes

Improved battery measurement

Control Panel V3.2.0.17 - Jul 2019

Revised UI - make it easier to access the controls you want in a more logical manner

The P3 Control panel also contains firmware 1.23 which we recommend to use.

Includes firmware v.123

Fixing some USB dropouts

Improved Mac USB pairing reliability

Improving Bluetooth reconnection speed on Windows

Change to USB pairing LED indication (Slow Green Flashing)

Change from DfuG4 update name to P3Update

Added Microsoft SwiftPair for quick connection to Windows 10 computers

Control Panel V3.1.10.7 - Apr 2019

Added Battery Meter and Automatic Updates

Fixed issue where resume from sleep would not re-enable control panel

Includes firmware v.111

Fix for some Bluetooth pairings being missed when swapping connection

Slowed down default tilt scroll speed

Fixed issue with erratic scrolling

Control Panel V3.1.6.0 - Feb 2019

Added 'Keyboard Input'

This update allows you to assign keyboard shortcuts to different gestures.

Includes firmware v.106

Improved USB re-connection range.

Control Panel V3.0.5.0 - Jan 2018

Added 'About Page'

This update allows users to upgrade the firmware to V1.05 via the About Page.

Version and Firmware versions are displayed on about page.

Includes firmware v.105

Multiple Bluetooth Pairings and USB connection correctly cycles sequentially between known pairs

Tilt detection is improved and more accurate.

Includes firmware v.104

Button presses such as double click could be missed is fixed

Fixes to switching between multiple Bluetooth connections.

Includes firmware v.103

Fix for mouse freezing and disconnecting intermittently

Fixing IMU going to sleep prematurely which stopped tilt gestures from working

Added battery measurement to BT device information

Previous connection type is maintained so mouse will reconnect using previous connection method as opposed to defaulting to USB.

Bootloader update to support updates via WebBluetooth/Chrome