Swiftpoint GT Cloud Configurator
The Swiftpoint GT uses a web-based interface to modify its firmware settings. This is no longer available at its original location, but it can still be accessed and used to configure your GT by downloading a local version of it using the link below.

After downloading you'll just need to unzip the Swiftpoint GT - Web Config.zip file, then open the index.html file contained within.


This will open the normal menu in your web-browser where you can configure your GT.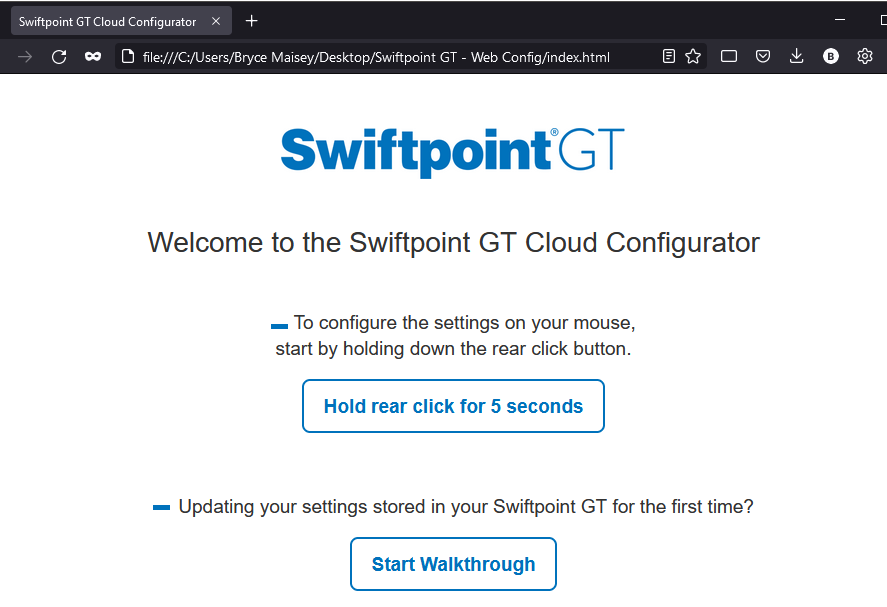 Related Articles

Swiftpoint Manager - macOS Catalina Support

The GTs Swiftpoint Manager software is currently only compatible with macOS versions 10.10 to 10.14. As unfortunately Catalina (10.15) made significant changes which prevent the Swiftpoint Manager from detecting the GT at all. The GT does still work ...

Swiftpoint GT Software Downloads

Windows 8-10 Cloud Configurator macOS 10.10-10.14 Download Gesture Technology Driver for Windows 8/10 Download the GT Cloud Configurator Download Swiftpoint Manager for macOS 10.10-10.14 If you have Windows 8 or 10 you can enhance the touch gestures ...

How do I configure the Swiftpoint GT?

Set the switch on the base of the GT to CONFIG to automatically open the GT's cloud configuration page. Windows users can follow the on-screen instructions to configure the GT firmware settings. MacOS users can configure their mouse this way too, but ...

My mouse is not working in Parallels Access on iOS

If the Parallels Access app on iOS is not recognizing your mouse after pairing over Bluetooth you may need to enable support in its settings menu. You can find the settings menu at the top right of the Parallels Access home screen. From there scroll ...

Swiftpoint GT Factory Reset

To Factory Reset your GT and restore all of its internal settings to default, please follow the steps or video below. Remove any existing Swiftpoint GT Bluetooth pairings to any nearby computer or device. Make sure your USB receiver is connected to ...